What is an HR Integration?
This is the first entry in our FAQ series, in which we will feature the most commonly-asked questions that we get from HR leaders when it comes to integrations. We are starting with some foundational knowledge that we will build upon in the coming weeks.
Integrations facilitate the flow of data between applications that otherwise wouldn't be connected. They enable companies to choose the applications that best fit their needs, without compromising on efficiency, visibility, data integrity or security.
For example, in HR specifically, an integration can connect your recruitment system with the other tools used in the recruiting process (such as background screening and assessments). Integrations can automatically load new hire and other employee data into HR, payroll, onboarding, and learning systems, etc. and can keep data in sync between systems throughout the employee lifecycle.
This diagram illustrates how the various components of your HR technology stack relate to each other in terms of information flow. You can see how integrations could greatly facilitate the effectiveness of these information processes and data flows.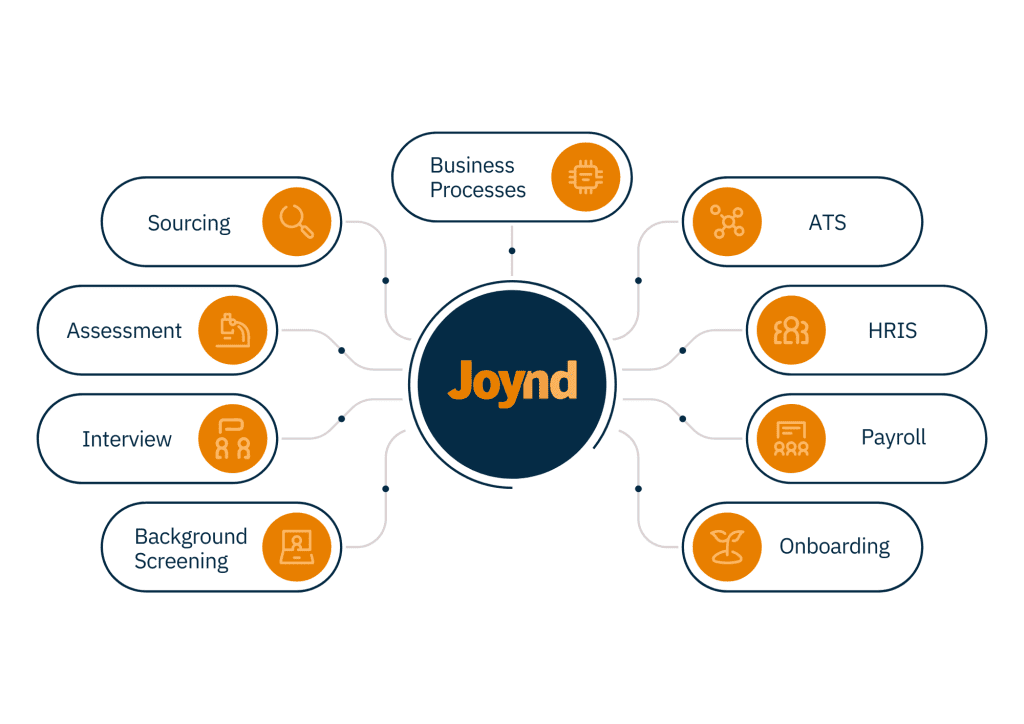 Methods of Integration
There are three basic methods of integration, although sometimes circumstances will call for a combination of the methods:
Pre-Built/Standard Integrations
If two of your applications are built by the same vendor, they may already have a pre-built integration that you can use. For instance, if your applicant tracking system (ATS) and onboarding application are made by the same vendor, these solutions should already have integration capabilities.
Built On Demand (Either by a Vendor or Third Party)
This is the most common scenario that takes place when you're using applications from two or more different vendors. You'll need one of the vendors or a third party to build the integration.
DIY with an Off-the-Shelf Platform and/or Connectors
Some companies may opt for a "Do-It-Yourself" platform that will allow them to build their own integration.
How do Joynd integrations work?
Joynd follows Method #1 on behalf of your vendors. We provide an integration middleware solution dedicated to delivering repeatable HR integrations.
Joynd builds a standard connector between each vendor application and the Joynd hub. We deploy the connector to our proprietary integration platform. Once a vendor is connected to our hub, their customers now have access to our vast library of integrations through a simple implementation process. Our focused knowledge of HR applications and our relationships with your vendors ensures that your integration will best serve your business processes.